Oregon Institute of Technology Vascular Technology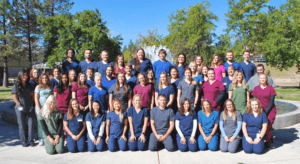 Beginning in 1992, the Oregon Institute of Technology was the first university in the nation to offer a baccalaureate degree in Vascular Technology. The school had been offering Radiologic Science degrees since 1952, so it only seemed logical that the next step was to branch into the field of ultrasound.  The program has grown through many changes over the years.  When the program first started we relied on equipment donation from hospitals and most of the ultrasound equipment reliability was mediocre at best.  In combination with more monies becoming available through Oregon Tech and with specific partnerships in industry, we now have five state of the art ultrasound machines for our Sophomore Lab and five for our Junior Lab.  This has been a major advantage to our current students, as they enjoy much greater access and exposure to the machines than even their instructors did years ago! We also enjoy industry partnerships with clinical affiliates at some of the leading hospitals and clinics across the nation, making our students very employable upon graduation. Our affiliates are an integral extension of our program, and we truly appreciate their efforts in helping to educate our students.
The name of the degree has also changed with the evolution of the program. Originally, the degree offered was an optional track within the Radiologic Science program, and the diplomas read, "The Degree of Bachelor of Science Medical Imaging Technology – Vascular Option."  Current diplomas read "The Degree of Bachelor of Science – Vascular Technology" as our program is now a dedicated degree offering. Additionally, we have programmatically accredited through the Joint Review Committee on Education in Diagnostic Medical Sonography – Vascular Concentration, which is overseen by the Commission on Accreditation of Allied Health Education Programs. As an accredited program, our senior students can, up to 60 days before graduation, sit for the ARDMS registry vascular exam.
Christopher (Chris) Caster has been the Program Director for the Oregon Tech Vascular Technology program since 2010 and graduated from Oregon Tech in 1996.   Chris received his Master of Arts in Education – Curriculum and Technology degree from the University of Phoenix in 2002.  Since 2014, Leah Jolly has joined the faculty and has served as Clinical Coordinator.  Leah graduated from the Oregon Tech in 2003 and has worked as a Vascular Technologist in the Bay Area with Mint Medical since her extern at the Montefiore Medical Center Vascular Lab in the Bronx, NY.  In addition, Leah has completed her post graduate Master's Degree having been the first graduate in Oregon Tech's Master of Science in Allied Health program.
Since 2014, Oregon Tech graduates have maintained a pass rate of 100% and a 94% employment rate for the past three years.  Currently, Oregon Tech has four other programs in medical imaging which includes Radiologic Science, Nuclear Medicine, Echocardiography and Diagnostic Medical Sonography.  With so many programs to choose from, the vascular program has had to make extra effort in its marketing push to incoming students.  As a result, many of the students who are selected into the vascular program may have originally sought one of the other four programs.  Although this is true, it is amazing how once in the program, the students wonder why they ever entertained the idea of something different for their medical imaging careers.
To learn more about Oregon Tech's Vascular Technology program, please visit https://www.oit.edu/academics/degrees/vascular-technology
**ARDMS is committed to highlighting the accomplishments and diversity of sonography programs. If you would like to have your program featured, please complete this form and submit the completed form to EducatorResources@ARDMS.org.