Keiser University Fort Lauderdale Campus, Diagnostic Medical Sonography Program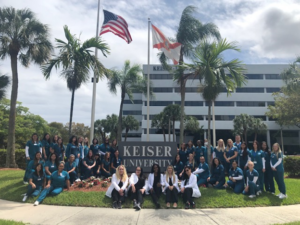 The Keiser University Diagnostic Medical Sonography Program at the Fort Lauderdale campus is a 20-month program that offers curriculum in the abdomen- extended, OB/GYN, and vascular concentrations. The program received its initial accreditation as a general program in 2001 and as a Vascular Program in 2009.The Fort Lauderdale DMS Program has been a leading contributor in the South Florida community for more than 20 years with countless graduates staffing local area hospitals, diagnostic centers, physician offices, and beyond.
ARDMS: What sets your program apart from other programs in your community?
KU-FTL: The Keiser University Fort Lauderdale campus was initially accredited in the abdomen and OB/GYN concentrations. Upon community needs, the vascular program was incorporated to the general one creating a track 2 curriculum that prepares our graduate for the diverse sonography modalities in need in our region. Committed to a "students first" philosophy, Keiser University's well versed and veteran DMS faculty prepare our graduates for careers in sonography by focusing on an exceptional educational experience through small class size, one course at a time, hands-on opportunities in our school laboratory, take home simulators, and the 8-month clinical rotation component with early exposure to the clinical setting.
ARDMS: How has your program evolved over the past few years?
KU-FTL: Our program and faculty have well established relationships within our community that has fostered an outstanding group of professionals that make up our advisory board. It is through this collaborative partnership that we restructured our program based on the community needs by incorporating a program in which graduates are well prepared and eligible to sit for registries in all 3 concentrations (abdomen-extended, OB/GYN, and vascular) prior to graduation. This feedback was immediately addressed and thus began the transformation of our program from 2 separate tracks as mentioned above to the current "Track 2" program which includes updated curriculum, laboratory proficiencies, and clinical competencies as outlined by the CAAHEP standards, hands-on learning, and clinical rotations in the 3 specialty areas.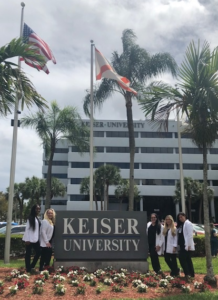 ARDMS: What is one defining moment or story that best represents what your program means to you and your community?
KU-FTL: It is very difficult to narrow it down to one defining moment. The "story" that best represents what our program means to us, and our community is rather a compilation of success stories that has spanned our 20 + year history. The positive feedback that we receive from our clinical affiliates, prior graduates, and community dictates the narrative of our journey to be one of the top-producing Diagnostic Medical Sonography Programs serving the greater South Florida area. Our graduates have gone on to work in prestigious clinical facilities, sought after specialties such as pediatrics, application and educational specialists for GE and Phillips, furthered their education into BSRN and PA's, and even went on to open their own businesses. We are extremely proud of the Keiser University DMS Program Fort Lauderdale campus legacy and feel honored that we are where it all began!
ARDMS: How does your program prepare students for a post-graduation career?
KU-FTL:  Our program prepares students for a post-graduation career from day 1 of the program. We have an extensive curriculum that enables the students to successfully pass the board examinations in all 3 specialty areas (abdomen-extended, OB/GYN, and vascular) prior to graduation. Coupled with the curriculum is the hands-on practice that the students get from the beginning. Hands-on components begin in the on-campus laboratory and transition into the clinical setting. Our students are often recognized  by clinical instructors due to the knowledge and practical applications already obtained prior to stepping foot in the clinical facility for clinical rotation #1. The final 4 courses in the program are dedicated to registry review preparation, resume writing, and mock interview readiness to propel our graduates towards the career they have worked so hard for. Lastly, we emphasize the importance of effective communication and outstanding patient care. A sonographer that can communicate effectively with patients by expressing empathy, compassion, and knowledge is certainly a desirable candidate that will produce positive patient outcomes.
ARDMS: How does your program adapt to and prepare for innovation in the Sonography field?
KU-FTL:  Our program has adapted to current trends through collaborative partnerships with other Allied Health programs on campus in the education of our students, such as partnering with the Allied Nursing Program for demonstration and hands-on opportunities in the use of intravenous catheterization for contrast enhanced ultrasound. Additionally, we have also partnered with the Physical Therapy Program for the purpose of discussing and practicing proper ergonomics as an adjunct to our curriculum. With new technology and applications presenting often, we also have purchased and use simulators for MSK and lung, along with our existing OB/GYN, breast, and scrotal phantoms. Staying current with trends is also achieved through maintaining CMEs, updating our equipment on campus, updated board preparation software, and attending annual conferences/seminars for the latest and the greatest.
ARDMS: What will your program look like in 5-10 years?
KU-FTL: We strongly feel that our program will continue its trajectory of being well-rooted in our community and continuing to excel to the forefront while addressing our community's needs. This can be achieved by ensuring that we are staying current with what is required in the field and looking ahead to the future by providing a bachelor's degree bridge program that contains an echocardiography component.
ARDMS: Anything else you would like to share?
KU-FTL: 3 out of our 5-person department are alumni of this program and campus which gives you an idea of how special we think this program and University is!
If you are interested in learning more information about the Keiser University Fort Lauderdale Campus, Diagnostic Medical Sonography Program, please visit their website or contact the program faculty:
Dr. Jacqueline Sposito, MD, RDMS, RVT – Program Director- jsposito@keiseruniversity.edu
**ARDMS is committed to highlighting the accomplishments and diversity of sonography programs. If you would like to have your program featured, please complete and submit this form to EducatorResources@inteleos.org.