University of Missouri, Diagnostic Medical Ultrasound Program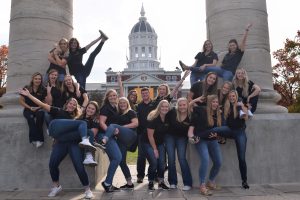 The University of Missouri, Diagnostic Medical Ultrasound (MU DMU) Program was instituted in 2001. It was the first CAAHEP accredited Master's Degree program in the USA. After restructuring the curriculum, MU DMU's program will now be one of the very few in the USA to include abdominal, OB/GYN, vascular, and adult echocardiography within the undergraduate curriculum which is about 2.5 years in length, not including 2 years of pre-requisites (about 4.5 years total unless you enter college with credits from high school). Currently, the program director for the University of Missouri, Diagnostic Medical Ultrasound is Moses Hdeib.
ARDMS: What sets your program apart from other programs in your community?
MU DMU: We are one of the few programs in the country that incorporates all the major areas of study, Abdomen, OB/GYN, Vascular, and Adult Echocardiography, into the curriculum of a single bachelor degree. Our students graduate with a broad education and multiple opportunities for employment. We also have an online MHS in Clinical and Diagnostic Science available that supports their pursuit of advancement into education, management, or research. Additionally, our program has a required research component that better prepares students to participate in professional research and writing activities and to be leaders in their field.
ARDMS: How has your program changed in response to COVID-19?
MU DMU: Like many programs across the country, we had to rapidly pivot to remote teaching in the Spring of 2020. We had to be creative in finding ways to support students to continue to develop skills in image acquisition, critique, anatomy recognition, and obstetric measurements when our obstetric scanning lab was shut down mid-semester. We developed a series of online scanning labs using video clips from our previous scanning lab activities to support this. We also worked diligently to get our students out to clinical rotations as soon as possible last summer and had them all placed by early June. We have learned to further maximize our time in the scanning lab when we are face-to-face and have sped up our flipped classroom model so that time in the classroom is spent in discussion and activities rather than lecturing. We were already working toward this model, but the pandemic certainly pushed us faster along the path. This Fall, the university plans to return to "normal classroom activities", but I anticipate retaining the pandemic routine of maximizing lab time and the flipped classroom model.
ARDMS: What is one defining moment or story that best represents what your program means to you and your community?
MU DMU: One of our graduates recently received a "Great Catch" award at her job for patient advocacy. She had performed a first trimester OB scan and turned in a technical impression of suspected molar pregnancy. When she followed up on the results, she discovered that the sonogram had been reported as "normal". She followed up on the study with a supervising radiologist, resulting in the patient quickly receiving the appropriate diagnosis and care. She told me the story and credited our program and our emphasis on patient care and advocacy for prompting her to follow up and to ask about the report. This is how sonographers make a difference in patients' lives. She could have just gone on about her day, but taking a few minutes to follow up on her previous cases made a real difference in the positive outcome for that patient.
ARDMS: How does your program prepare students for a post-graduation career?
MU DMU: Here at Mizzou we work very hard to ensure that our students are well prepared to be more than just competent sonographers; we want them to set the standard of excellence and to have the skillset to be leaders in the profession if they wish. We do our best to inspire them to listen to each patient's story, to see each patient as an individual rather than a case, and to do their best to make a positive impact on their outcome. We model professional volunteerism and engagement through our activities with ARDMS, JRC-DMS, and SDMS as well as local community outreach. We support our students' growth by setting high expectations and then supporting their achievement in research, writing, and communication as well as patient care and scanning. We want to provide our students with the tools to develop the best possible knowledge base and skillset so that they have the broadest possible range of opportunities available when they graduate and so they can make a positive impact on the profession we love.
ARDMS: How does your program adapt to and prepare for innovation in the Sonography field?
MU DMU: We read the literature, attend conferences, and engage with innovators in the field. We take advantage of every opportunity to bring in guest speakers to demonstrate and talk about new technology with our students. Our students fundraise each year to attend the SDMS conference where they can see new technology and engage with innovators in the exhibit hall. We have assignments where students are required to search for and present information about new technology in the sonography field. Luckily, our alumni often go to work for companies that develop innovative technology, so we have the opportunity to bring in speakers to talk about it frequently.
ARDMS: What will your program look like in 5-10 years?
MU DMU: That's impossible to tell! Technology is changing so rapidly! We will still be here, providing the best education we can, teaching the future leaders of our profession.
To learn more about the University of Missouri, Diagnostic Medical Ultrasound Program , please visit https://healthprofessions.missouri.edu/diagnostic-medical-ultrasound/.
**ARDMS is committed to highlighting the accomplishments and diversity of sonography programs. If you would like to have your program featured, please complete and submit this form to EducatorResources@inteleos.org.