By Toby Rabbin, ARDMS Volunteer Engagement Program Manager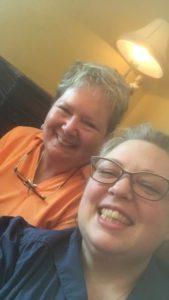 ARDMS Registrants Vicki Patsdauter and Tamara Davenport have a lot in common.  They both graduated from the same sonography program in Dallas, Texas, 16 years ago. Afterwards, they worked side by side for more than 10 years at a hospital out-patient clinic. They both exude passion for their patients and share a love of family. Actually, they share a family. You see, Vicki is Tamara's mother.
I met Vicki and Tamara at the 2016 annual conference of the Society of Diagnostic Medical Sonographers (SDMS) when they attended the ARDMS-hosted luncheon for Registrants and students.  Even In a large crowd of enthusiastic guests, Vicki and Tamara stood out in their matching pink tops and engaging personalities.  A few months later, they agreed to talk with ARDMS about their mother-daughter professional journey.
ARDMS:  Tell us a bit about yourselves. 
Vicki: I am a retired midwife who holds the RDMS credential with specialties in Breast and OB/GYN.  I enjoy variety so I've chosen to work in several places in the Dallas area:  PRN (as needed) at a hospital breast center where pelvic and pregnancy scans are also done, with midwives at a birth center and at an OB/GYN medical practice. My wife is a pharmacist working at a large area hospital, and we have two grown children.
Tamara: I hold the RDMS credential with a Breast specialty. I live in Dallas and work fulltime at an imaging center. I have two wonderful mothers, a terrific brother and a loving boyfriend.
ARDMS:  How did you each decide to become a sonographer?
Vicki: Throughout my 25-year career as a midwife, when sonographers came to the birthing center with their portable machines, I always asked questions and was obviously interested. When, in my mid-40s I began to think about changing careers, the sonographers encouraged me to go back to school and earn a degree in sonography.
Tamara: Growing up, I always enjoyed seeing what the sonographers did at my mom's midwifery practice, but I never considered it as a career until I was already in college headed toward a future in law but finding it difficult to get excited about my classes. One weekend, while I was house-sitting for my parents, I leafed through my mom's ultrasound books. Perhaps it was impetuous, but I knew it was the right decision to leave my law-school dreams behind and sign up for ultrasound.
ARDMS: Vicki, how did you feel about your daughter following in your footsteps?
Vicki:  Well, she didn't exactly "follow"!  We entered the same school at the same time. I was thrilled because I felt Tamara had a caring attitude and would excel as a sonographer. Being in school together gave us a new connection, ​​and I was able to watch her mature as a professional when we worked together at the same hospital for several years. I am so proud of who she has grown to be.
ARDMS: Talk about your schooling and training.
Vicki:  My training as a midwife was very helpful when learning about anatomy. Physics, on the other hand, was the most frightening because it had been so long since I'd been in school. Our most valuable training, I believe, began after we graduated, and it continues to this day by reading journals and talking with other sonographers about techniques and anomalies.
Tamara: Going to school with my mom was a unique experience.  I loved it!  We were able to help one another in a way that the other students couldn't.  She helped me with Anatomy and I helped her with Physics.  Our training outside of school was much different from each other.  But we were – and still are – able to help one another with things that stump us.
ARDMS:  What was it like working together at the outpatient center?
Vicki:  It was a wonderful way to get to know Tamara in a completely different way – as an adult, not just as my child.  It was sometimes a challenge as we didn't always see eye to eye, but that was rare.  Even then, I admired the way she stood up for her beliefs. I enjoy her, we had a good time.
Tamara: Working with Mom was amazing, though it certainly had its challenges.  "Attempting" to call her Vicki instead of Mom!  Realizing that by telling my co-workers my stories, I was also telling her co-workers her stories.  I miss working with her.
ARDMS:  How are your current jobs similar? Different?
Vicki:  We each have chosen areas that we enjoy. I love working in women's health.  I have been extremely lucky to work with doctors and midwives who respect my experience as a midwife and my knowledge in alternatives.
Tamara: We both have a love for our patients.  That is something I learned from my mom – to think about how I would want to be treated. Our differences come in our specialties.  I enjoy a variety of areas; Mom loves staying within women's health.  ​
ARDMS:  What is it like when you "talk shop" together?
Vicki:  We have to be aware of who is around when we do. Others may not want us talking about cysts and aneurysms at the dinner table (chuckle)! We really do enjoy discussing interesting cases, though, and asking each other about technique.  It's helps us continue to grow.
Tamara: I love talking shop with Mom!  We learn something new every day.  Being able to get together with her and share our mutual new experiences is an advantage I don't think many others have.  Not at the frequency that we do, anyway.
ARDMS:  What do family members think of you both being in the same profession?
Vicki: I think my son might feel a little left out (smile). But truthfully, it's been amazing how inspiring knowing that someone my age AND someone Tamara's age can both find this as a career path.  Both of us are enthusiastic about what a great career this is.  I think it really brings out the best in us!
Tamara:  I think my stepmom is a bit perturbed at times, mostly when we talk shop! (smile)
ARDMS: Plans for the future?
Vicki: I plan to continue working.  What's great about contracting is that I can choose how much to work and be discerning as to what jobs I'll take. This gives me flexibility to be as busy as I want to be and take off when I need to.
Tamara: I plan on helping the company I work for expand to other locations.  I love what I do and who I work for.
ARDMS:  What do you tell people who express an interest in sonography?
Vicki: I support anyone who is considering it as a profession.  Meeting the young students at the ARDMS-hosted luncheon at the SDMS conference was a great experience. They were so excited. They are ready to go.  I loved that!
Tamara:  I tell them to go for it.  To not let any difficulties they may come across stop them from pursuing their dream.  I always tell them how much I love what I do.  Sometimes I get questions from people who are in their mid-40s.  I always tell them about Mom and me. I hope it inspires them!