By Toby Rabbin, Volunteer Engagement Program Manager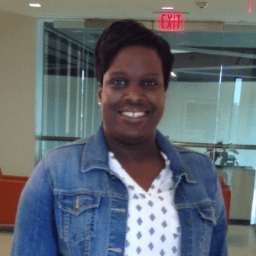 My first contact with Regina Andrews, a sonographer practicing in Charlotte, NC, was just a few months after I assumed the position of Volunteer Engagement Program Manager at ARDMS. In our first phone conversation, I knew she was someone special.  ARDMS had just launched a new Volunteer Now page on our website that listed opportunities for Registrants, and Regina wanted in!
Now, Regina writes questions (we call them items) for both the Abdomen and Vascular Technology examinations.  In Spring 2017, she was invited to participate in a two-day meeting at Inteleos headquarters (the umbrella company of ARDMS) to review questions with colleagues from around the country.  It was then that we finally met in person.
ARDMS:  What made you call that day in 2014, wanting to volunteer with ARDMS?
Regina:   At that time, I worked for a company that provides medical staffing around the country, and I was on assignment in Salt Lake City, UT.  While browsing the ARDMS website one evening, I came across the new page announcing volunteer positions. It caught my eye because I like to do volunteer work, and I wanted to get more involved in the field of ultrasound.
ARDMS:  We're glad you did!  Tell us about your volunteer experience with ARDMS so far?
Regina:   I started volunteering in 2015.  The first thing I did was take the Item Writing webinar to learn how to write a good item and how to use the remote item-writing software. Right after the webinar, I was placed in a writing project for the Abdomen exam.  I learned that a writing project is a three-month period during which you're asked to write 10 items.
ARDMS:  Were you nervous when you first began writing items?
Regina:   Yes!  I had never done anything like that before.  The best part, though, was having an online mentor (who is also a volunteer) give me feedback about each of my items. The feedback was constructive and always made me feel I could make the items better. It pushed me to the next level. After I graduated from needing a mentor, I began writing items for the Vascular Technology exam as well as the Abdomen.
ARDMS:  You attended an Item Development Workshop (IDW) for the Abdomen exam this past Spring.  How was your experience there?
Regina:  I have to admit, being with other sonographers from around the country who are experts in Abdomen seemed intimidating at first. Several of them had participated in an IDW before so they knew what to expect. As I got more comfortable, I really liked the process of reviewing items. Each item was shown on a screen, and the group critiqued it to make sure it met all the ARDMS standards. I learned a lot from the sessions, and I definitely want to come back to another IDW!
ARDMS:  Tell us about how you decided to become a sonographer.
Regina:   I always wanted to work in the medical field. A friend told me about ultrasound.  The only thing I knew about ultrasound at that time was in terms of pregnant women.  So, I researched the profession and found out how broad it is. That captured my interest, and I decided to pursue it as a career. I graduated from an ultrasound program in Ohio, where I lived at the time, and I've been a sonographer for 15 years.
ARDMS:  How did you choose Abdomen as your specialty?
Regina:   I got my Abdomen specialty immediately.  What attracted me to that was liver pathology. The liver is such a big organ and there are so many things that go on in the liver. When our livers aren't healthy, it can do a lot of damage.
ARDMS:  You also earned your RVT, right?
Regina:  Yes, I earned the RVT a few years later. In school, we didn't have a big unit on vascular. While working in a vascular lab, I was exposed to a lot.  I got more interested in it and wanted to get better at it.  Seasoned vascular techs taught me what they knew. I was inspired to get my Registry so I could be more efficient in it.

ARDMS:  Where do you work now?
Regina: I work in a very busy Level 1 trauma hospital in Charlotte, North Carolina.  We see everything: a lot of biopsies, renal transplants, heart surgeries, vascular work.​
ARDMS:  What do you love about being a sonographer?
Regina:   I love the interactions with patients.  As a sonographer, you can make the patient's experience great or you can make it terrible.  You have to have empathy, especially if the patient has come in for something serious. You have to have a love for people, a good bedside manner, compassion, and positive energy for the patient. My clinical instructor always emphasized the importance of good eye contact with the patient and asking how the patient is doing before/during/after the examination.
ARDMS:  Is there a professional highlight you'd like to share?
Regina:   Just recently, we had a patient come in for a thyroid biopsy. She didn't know what to expect and she was nervous. What made the situation even more difficult for her was that she had gotten her appointment time wrong so she had quite a while to wait. Before the doctor came in, I talked with the patient and explained exactly what was going to happen.  By the time the doctor came in, she was relaxed; her whole demeanor had changed from what it was when she had arrived. After the biopsy, she was smiling and in a good mood.  She wrote to my supervisor saying how grateful she was for how I had calmed her down. That really made my day!
ARDMS:  Thanks for sharing your story with us, Regina.  We are so grateful for all the work you are doing as an ARDMS volunteer!​