By Hedy Ross, ARDMS Member Relations Program Manage​​r
​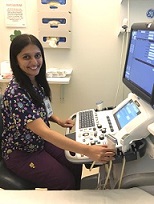 The Summer 2017 issue of Registry Reports features Falguni Patel, RDMS, RMSKS, RVT, an ARDMS Registrant since July 2002. Falguni is an impassioned and energetic role model for those entering the sonography profession. She has been an ARDMS volunteer for six years and serves as the Item Writing Working Group Lead for the ARDMS Pediatric Sonography (PS) examination. Falguni holds the Registered Diagnostic Medical Sonographer® (RDMS®) credential with the following specialties: Abdomen (AB), Obstetrics & Gynecology (OB/GYN) and Pediatric Sonography (PS). She also holds the Registered Musculoskeletal Sonographer™ (RMSKS™) and Registered Vascular Technologist® (RVT®) credentials. Falguni agreed to be interviewed about her path to become a sonography professional, her passion for helping others, and advice for those interested in this rewarding career.
ARDMS:  How did you first learn about sonography as a career?
Falguni: I remember going with my mom for her ultrasound appointment when I was in high school. It was amazing to me how someone could take pictures of our insides like that, and be able to read things from what looked like white, black and gray dots to me. I remember asking the sonographer about her profession. This gave me my first introduction to the field.
ARDMS:  How did you decide to become a diagnostic medical sonographer?
Falguni: Growing up I always wanted to work in the medical field. Eighteen years ago, I researched the field that would be the most in demand in the future and the very first modality that came up in my research was ultrasound. As I learned more about the field, it sounded very interesting to me. Back then, there were not many colleges in Illinois that were offering this program. There was one college that was offering the Diagnostic Medical Sonography (DMS) program. I decided to go for it and I met with the counselor and basically created my path for a sonography program. I knew this was a tough program to get into and you needed your GPA to be very high to get selected for the program. With tremendous support and encouragement from my husband, I finished all the prerequisites with a high GPA, and I was accepted into the program. That acceptance call completely changed my life.
ARDMS:  Where did you go to school?
Falguni: I am a 2002 graduate of Triton College, River Grove, Illinois. I truly enjoyed my DMS program when I was in college. It was very challenging but also very rewarding. I am so thankful for my wonderful teachers, Debra Krukowski and Mariana Desmond, who taught me and invested their time in me to help me excel in sonography. I am so fortunate and thankful for all the wonderful teachers, preceptors at all my clinical sites and wonderful radiologists from whom I learned so much.
ARDMS:  Where do you work?
Falguni: In April 2002, I joined Children's Memorial Hospital, now called Lurie Children's Hospital of Chicago, as a limited sonographer and a month later I graduated from the DMS program and accepted a full-time position at the same hospital. Now 15 years later, I am still at Lurie Children's Hospital and I have absolutely enjoyed my time here and taking care of my patients. I work with children all day long and all the challenges that come along with that make me love my job even more. I am surrounded by great leadership, management, radiologists, coworkers and overall staff. We all work together daily as a team to save the lives of our patients.
ARDMS:  What do you find most satisfying about the sonography profession?
Falguni: Sonography is a very rewarding profession. Life is short and I feel proud of myself for using my time wisely and selecting a career where I save patients daily. I inspired both of my sisters-in-law in their career selection – one is a sonographer and the other is in school studying to become one. Best of all, I have inspired my daughter, age eleven, who wants to become a radiologist. She also picked a sonographer role for her career day celebration at school. I introduced the sonography profession at my children's school. The 3rd and 4th graders found it very fascinating.
ARDMS:  What motivates you to help patients and other sonographers?
Falguni: Taking care of my patients and their families is my top priority. My passion for my profession and the people I serve continue to motivate me. I appreciate those individuals who invested their precious time in me when I was in training. Trying to give back, over the years I have made it a priority to teach students, and train new sonographers and residents in the department. It gives me joy when I see coworkers progressing independently after I have trained them. Teaching has always been my passion. When I train new employees, I am training them not for just today and tomorrow, but for the rest of their careers as sonographers. I have also implemented a musculoskeletal ultrasound training program in my department. I do return to Triton College to share my work with the students. I have also volunteered for ARDMS for six years. I love using my experience to give back to the Sonography Community.
ARDMS:  What advice do you have for those interested in sonography as a career?
Falguni: I highly recommend sonography as a career. In fact, many of my patients' caretakers ask me questions about how to become a sonographer. I tell everyone that this field is so unique and with various specialties, it makes for a very interesting career. It is a perfect career that suits your personal life, too. It's a very rewarding profession and sonographers are in high demand. Sonographers are very much appreciated by patients, families, radiologists and ordering physicians. There are so many growth opportunities in this field. I have been in this profession for 15 years at the same facility and I absolutely love my job. I have learned so much in this field and continue to grow in my profession. I can say, over the years, I have completely enjoyed coming to work. When I leave work, I feel so good that I invested my eight hours wisely, taking care of my patients. The images that I take on my patients make an enormous impact on their treatment plans. It truly is a wonderful feeling to make such a great contribution. I am proud to be a pediatric sonographer and to be part of a fantastic organization, Lurie Children's Hospital. I work hand in hand with a wonderful team of professionals where "saving a life is our top priority."​