Increase awareness about the sonography profession.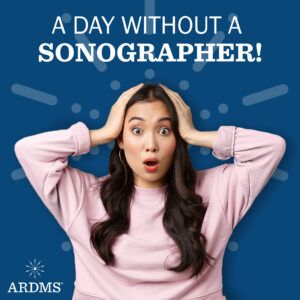 This October, during Medical Ultrasound Awareness Month, the American Registry for Diagnostic Medical Sonography (ARDMS) and the Alliance for Physician Certification & Advancement (APCA) collaborate to bring you the "A Day Without A Sonographer" Campaign.
PARTICIPATE IN THE "A DAY WITHOUT A SONOGRAPHER" CAMPAIGN AND YOU COULD WIN $500
Share what you think "A Day Without A Sonographer" might look like by submitting a video. Participants can submit their videos before midnight on October 31, 2020. A team of staff will select the best video, and the winner will receive a $500 American Express gift card. Before you submit your video, reach through the important participation details below the video.
IMPORTANT PARTICIPATION DETAILS
To participate you must:
Be an ARDMS or APCA Registrant or a sonography student.
Agree that the ARDMS/APCA can share and use your video.
Submit a video by October 31, 2020.
To successfully submit your video you must:
Tell us your name and where you are from.
Consider what value/contributions sonographers bring to healthcare.
What would a day without a sonographer look like? How would patient safety impact without ultrasound?
SHARE "A DAY WITHOUT A SONOGRAPHER" VIDEOS
We have heard from many of you that you are not always recognized for the valuable contributions you make to healthcare. Sonographers, we see you! Help us to help others see what we see. The aim of this campaign is to increase the awareness of all that sonographers do, not only in the healthcare community but also outside of it. To do that we need your help! Share the "A Day Without A Sonographer" videos with your family, friends, and followers and remember to tag the ARDMS on the ARDMS Facebook and, Discussion Group, Twitter and LinkedIn. If you have any questions, please email communications@Inteleos.org. Thank you for your participation!