Bowling Green State University Firelands College DMS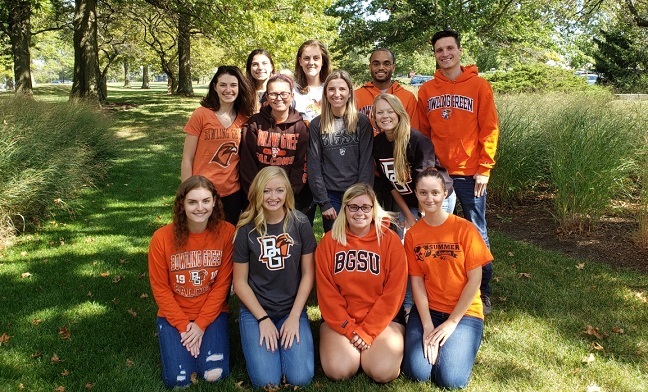 Created in 2012, Firelands College DMS earned accreditation through the Commission on Accreditation of Allied Health Education Programs (CAAHEP) in 2013. This small, affordable college in North Central Ohio, which is affiliated with Bowling Green State University, offers a small class size and the opportunity to seamlessly transition from an Associate's degree program into a Bachelor's degree program for any student that wants to continue their education. Equipped with a brand new sonography lab designed to reinforce medical imaging concepts, Firelands College DMS students also participate in a Sonography club that provides live scanning demonstrations, career information and guest speakers to help promote ultrasound awareness within the community.
ARDMS: What sets your program apart from other programs in your community?
FC DMS: We have a small class size with a great faculty who are truly committed to student success. We provide a wide range of learning opportunities in the classroom and in our clinical rotations. In addition to general sonography we provide a foundation in vascular and breast sonography.
ARDMS: What is one defining moment or story that best represents what your program means to you and your community?
FC DMS: The defining moments of the program which speaks to our success are the clinical sites who continually request to have our students, and hire our students on a yearly basis. We have a consistently high job placement and credentialing rates.
ARDMS: How does your program prepare students for a post-graduation career?
FC DMS: We prepare students not only with sonography knowledge and scanning skills, but also to be active members in their profession.  We value critical thinking and professionalism and these items are embedded into the program throughout the entire curriculum.  During the last semester, students participate in a capstone course in which they complete resumes and participate in mock interviews to prepare them for future employment. The students also participate in registry reviews and several mock registry exams are provided.
ARDMS: How does your program adapt to and prepare for innovation in the Sonography field?
FC DMS: Faculty members participate in educational development while also remaining active in ultrasound societies and attending regional and national meetings. We have a close relationship with our clinical affiliates to remain current in the field and the evolving needs with in Sonography. January 2019 we completed the renovation of our allied health building and new sonography lab. We are fortunate to have an administration who are dedicated to the success of the program and the renovations which provided new equipment.
ARDMS: What will your program look like in 5-10 years?
FC DMS: We will continue to provide a quality education to our regional area. We hope to provide more clinical opportunities to allow our students to be leaders in the sonography profession.
To learn more about the Bowling Green State University Firelands College DMS program, please visit https://www.firelands.bgsu.edu/majors-programs/diagnostic-medical-sonography.html
**ARDMS is committed to highlighting the accomplishments and diversity of sonography programs. If you would like to have your program featured, please complete this form and submit the completed form to EducatorResources@inteleos.org.